Community Conversations
The LWVWI Voter Services Committee would like to invite any interested member to participate in our upcoming Voter Services Community Conversations. The purpose of this series is to create a space for League members interested in voter services to join together in conversation around a voter services topic each month. 
These informal conversations will be held over Zoom. Each session will have one or more discussion leaders who are knowledgeable about the topic.
Next Topic:  Social Media Monitoring and Other Efforts to Combat Mis/Dis Information
Date:  May 16
Time:  Noon
Here is the link to join the zoom call. 
Here is the complete schedule:
6/20/23 – Voter Services Outreach Materials Show and Tell
National Popular Vote Bills Introduced In Wisconsin
Wisconsin legislators just introduced the NPVIC bill in the WI Senate, and it has been referred to the Committee on Government Operations, Elections, and Consumer Protection.
The National Popular Vote bill would guarantee the Presidency to the candidate who receives the most popular votes in all 50 states and the District of Columbia (Explanation). It has been enacted into law by 15 states and DC with 195 electoral votes (Map of states). It needs an additional 75 electoral votes to go into effect.What can you do to show your support? Call your legislators!  Tell them you want the National Popular Vote Interstate Compact bills, SB 144 and AB 156, scheduled for public hearings.
States passing NPV legislation is the fastest path forward for every vote in presidential elections to count. States are moving forward.
If this bill is passed in Wisconsin, our 10 electoral votes, along with those of other compact states, will go to the winner of the nationwide popular vote.  Let's get it done!
End gerrymandering … demand fair maps
In 2021, a few politicians drew electoral maps for Wisconsin based on the 2020 Census data that are even more rigged than the 2011 maps. These maps further entrench their power and silence the voices of voters. Let them know that we, the people of Wisconsin, will not be silenced.
Voters should choose their elected officials, not the other way around.
Vote411 — Election information you need
Check your voter registration
Find helpful tips in the First-Time Voter checklist
Learn who to call if you have questions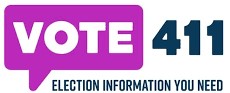 MyVote Wisconsin
Register to vote
Update your voter information
Learn how to vote early by absentee ballot
Find your polling place
The League is proud to be nonpartisan, neither supporting nor opposing candidates or political parties at any level of government, but always working on vital issues of concern to members and the public.
OUR MISSION
Empowering Voters. Defending Democracy.
OUR VISION 
We envision a democracy where every person has the desire, the right, the knowledge and the confidence to participate.
OUR VALUE 
We believe in the power of women to create a more perfect democracy. 
"No country can ever truly flourish if it stifles the potential of its women and deprives itself of the contributions of half of its citizens."
Michelle Obama
"Women belong in all places where decisions are being made. It shouldn't be that women are the exception."
Ruth Bader Ginsburg
As a modern woman, there are things I take for granted, and that shows up in the way I sit, the way I walk, the way I think, and what I know to be possible.
Lorraine Toussaint