Take Action
Make your voice heard! Get involved. Democracy is not a spectator sport!
Support the U.S. Post Office
One of our nation's most critical essential services is under attack. The United States Postal Service serves every American household delivering essential supplies, paychecks, census mailers, and much more. It has been on the frontlines of the current global pandemic ensuring that Americans remain connected and safe.
Contact Congress and tell them to support USPS in doing its job. Take action today.
Tell Congress to Invest in the Safety of Our Elections

Voters should not have to choose between their health and their vote.
In March, Congress worked to add $400 million in aid to states to address necessary policies to safeguard our elections during the COVID-19 public health crisis. This money is just a down payment on the real funding needed to protect the right to vote in the November elections. The November election is quickly approaching, and it is imperative Congress provides the necessary funding to transform our election system to respond to this crisis, and ensure voting remains fair, accessible, and safe.
People Powered FAIR MAPS

The LWV supports the establishment of an independent commission or designation of an independent agency to be responsible for the development of a legislative and Congressional redistricting plan.

Congressional districts and government legislative bodies should be apportioned substantially on population. We oppose partisan and racial gerrymandering that distorts and undermines representative democracy by allowing officials to select their voters rather than voters to elect their officials.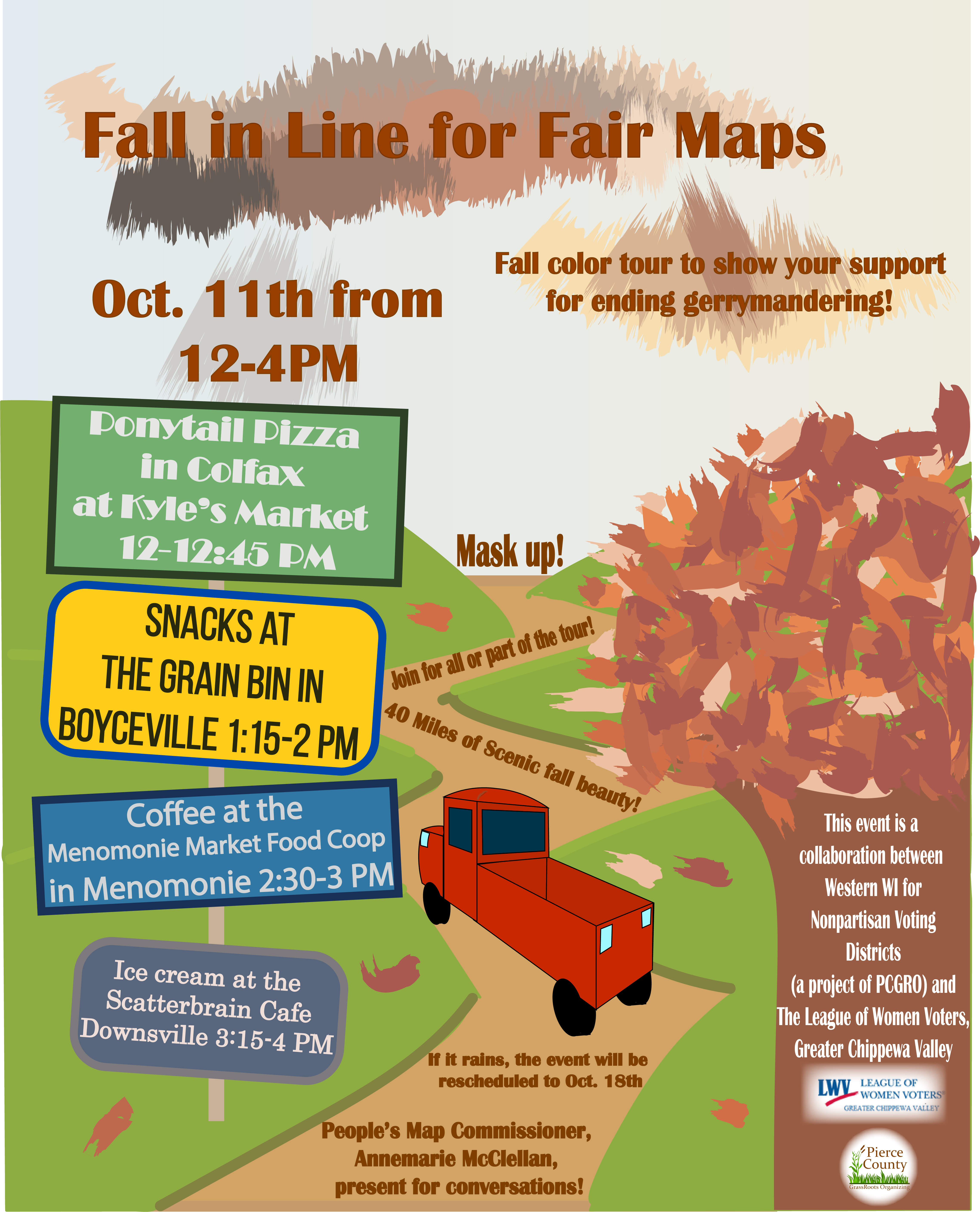 Get Counted!
Why does the 2020 Census matter for rural America?
Over 300 federally-funded programs rely on census data. Around $900 billion were distributed to states with rural populations in 2016. Roads and bridges are just a part of the assistance. Other areas of federal support include:
Rural Health Networks

Water & Waste Disposal Systems

Supplemental Nutrition Assistance Program (SNAP)

Medicaid
Help insure rural Wisconsin gets its fair share of funding. Fill out your census today!
For the People Act

The League of Women Voters supports the For the People Act, the Senate companion bill to H.R. 1 that passed the U.S. House of Representatives on March 8. This bill will modernize our election system, reform redistricting, and improve transparency in our elections. Contact your senator and let them know you want to protect our elections.
Volunteer Election Observers Needed
We need your help. LWVWI is recruiting volunteers from across the state to serve as election observers during elections. Volunteer election observers help ensure we have a fair election by watching for signs of voter disenfranchisement and intimidation and by monitoring the way Wisconsin's election laws and procedures are being applied. Even if you only have a couple of hours on Election Day, you can still make a difference.
You don't need to be a League member to volunteer. Sign up to be an election observer today!
News and Alerts Sign-up



Did you know you can sign-up for news and alerts about government actions in Wisconsin? The League of Women Voters will keep you updated on issues, legislation, and policies that affect Wisconsin voters.